LO1: Initial Research
Initial Presentation Pitch Before Christmas.
Before Christmas we were asked to pitch our ideas to the class, to share our skills and our projects incase anyone would like to collaborate. Below is the initial pitch I did. Looking at it now in the first week back, I can see that it is quite vague but the essence of the idea is clear! I want to make an animation based on the amazing work the National Trust create.
---
LO1: Why I chose this as my initial project. 
When I was younger my family holidayed around the UK, because of this I was able to see a lot of the British countryside and learn about the history! I have now grown into a bigger history lover and a supporter of nature conservation. The National Trust is an organisation that I often end up walking (walks) or visiting. Below you can see some of the places I have seen down to the conservation that the National Trust believe in.Hove
---
---
---
LO1: Visiting Hall Place – National Trust
LO1: I decided to set some time a side to actually go out and explore. I wanted to draw from life and get away from the screen. I had intended to draw more of the landscape but I ended up being swayed by the devilish personality of the geese. Hence why I was deterred by the landscape to the wildlife! It was great to begin to think about what I could possibly draw and research further.
---
LO5: After receiving feedback from Dan to come up with three different ideas on this subject and to define and choose. LO1: I began researching! I created the below spider diagram as I did some research on the National Trust. Doing this research has further allowed me to understand the role of the National trust beyond being just as a visitor but to fully appreciate the amount of work they do (Which is a lot!). From Protecting 775 acres of coastline, protecting wildlife and endangered plants. They go a head and implore people to write, draw, grow, go wild, create stories, plant and just be creative a free. It is a perfect embodiment of just living life freely.
What the National Trust believe in
"Special Places forever, for everyone."
LO1: This phrase was used over and over on the website, summarising the preservation of beauty for every generation.
LO1: The Wild Network.
LO1: The National Trust have teamed up with many other organisation in founding 'The Wild network'. The network seeks to inspire children to swap time indoors to outdoors. There was an argument that parent's feel this is an attack on them see below. But the idea is to just reboot a sense of wildness and inspiration to children. I think it is important to inspire children not talk down to parents.
LO1: National Trust have shown on their website a dedication to gently reminding the government to consider the environment after now leaving the EU, who were responsible to many of the environment plans.  Source
LO1: Another area to which the National Trust look after is wildlife, plants, insects. The Trust believe in understanding and assessing the decline in species on our shores.
Of almost 8,000 species assessed by the report, one in ten are at risk of disappearing from our shores altogether. Source
LO1: A decline of Bats, butterflies and birds are what the National Trust what to improve, and this has been achieved over and over by the National Trust. By understanding and utilising farming the National Trust have abled to show it is possible. The phrase they kept repeating is perfect here: Special place, forever, for everyone. We need to keep these beautiful species alive for every generation.
National Trust report in the benefit of nature for children
LO1: Above you can see a video the National Trust created to promote their campaign. It shows how they are trying to aim this content to younger viewers, therefore showing my animation I need to target it at the level of children.
---
LO1: Films to look more closely at.  – Filmic Language
LO1: The Secret Garden (1993)
LO1: The Secret Garden is a book written by Frances Hodgson Burnett published in 1911. The book and later the films adaption, is based around the story of children who become changed and healed from nature. It is a film which I was obsessed with as a child, and is very beautiful. The story is about self discovery, both children are unloved from a young age and because of this, are spoilt or 'bratty'. Through new relationships and the love of a secret garden the children come together and grow.
LO1: The film has beautiful shots with children interacting with nature and how the nature is captured is beautiful. The story uses the garden as a metaphor for the healing place. The shots show how the garden is represented as this magical realm where anything can happen.
---
LO1: FairyTale: A True Story (1997)
LO1: Fairytale: A True Story (1997) is a film built around the true story of 'Cottingley fairies' again the tale features children and nature. The film, is meant to shine a light on the 'hoax' from the children's point of view. Based in a beck next to where the children lived you can see how the young girls imagined fairies.
Image Source LO1: This clip shows the interaction of the children outside in the beck, the way the light is caught in the film when outside is particularly beautiful. When it catches the light it creates the idea of a magic land.
---
---
Ever After – 1998
LO1: Ever after is a film that focuses on twisting the fairytale Cinderella. Some of the filmic language is very beautiful, from focusing on her floating on a lake, to the way the camera flows to see reactions. The colour signifies, magic and innocence of the character (Purples, blues and pink intwine). The whole film reflects its intention – To be magical! The story itself does not have any magic reference at all, focusing on a realistic depiction of the story with the only really magical thing is Leonardo Da Vinci who is the "Fairy godmother" in his invention. It is a great example of how I could display the National Trust without actually showing magic.
Beatrix Potter
LO1: Beatrix Potter is one of my favourite artists, simply for her vibrant illustrations and beautiful tales of British animals. Because of this she is the perfect point of reference. As well as this fact she worked with the National trust and left land to it after her death. All her tales included animals and tales of their mischievousness which could help me finalise my story.
Beatrix died in 1943, leaving fifteen farms and over four thousand acres of land to the National Trust.
My particular favourite tale of hers as a child, was The Tale of Samuel Whiskers seen here above. We have it on a video which we had taped back in the 90's, which we used to watch over and over! As an adult I love her stories even more. What I wanted to reflect from Beatrix Potter's tales is their simplicity. They aren't complex they tell a story of a rabbit in stuck in a garden, a kitten lost in a chimney with rats trying to eat him. I like how the tales are simple – it makes it easy for children to follow but also show the essence of the tale.
L01: Story Workshop 24/01/17
L02: For my downtime I wanted to Bracket research into story developments, I have a passion for telling stories and I want to keep learning about this beautiful craft.
L01: The story workshop gave me some really useful tips to think about. What makes me and someone else different? It is how we tell a story!! Which makes the difference. It belongs to you, because it is your representation of the world. Stories need to have a universal truth, or a common ground in which audiences can relate to. But say something new, expressive. Use characters to make a connection, mould a character truthfully.
LO1: Good storytelling – lean in, makes you experience – choreograph a scene to make you seem like you are there. Take a moment and make it experimental. Looking and learning to see. Take risks, learn to understand failing is normal but take the risk to try again. I love this advice, reading this again a little down the project I think this is such important advice. I should always remember I want my audience to be immersed in this story I have created. And it dosen't matter if by the end it isn't perfect as long as I took the risk to try!
Make people feel things.
Don't tell the audience everything, leave work for the audience to want to know more.
LO1, L06 , LO5. In a workshop task we had to write a story, I did a child as my character and was given this advice after: When writing for a younger audience you need to stay in the moment. – I found this useful to apply to my own project which is aimed at children. Later on an exercise I tried to apply this to a story I write with Alice for this workshop. I need to make sure when I am doing my animation that I take on the perspective of my character, what she is looking at, how she is feeling. Not just as an audience looking in. 
Honest with who you are, creativity within yourself. To be creative means to be loose and observant!! Not to be precious, to discard and collaborate. To be unexpected and make meaning to move people. 

What does the character need to know, what can we keep away from them?

Learn to ask question? 

What if/

Why/

What could be.
Writing an introduction to a coming of age story. 
---
Wednesday 25th January
Storytelling Workshop 2
Memory and how we access that.
L01: "In the particularly of your own lives you will find the sweetcorn that will feed your creative work. The little fragments we carry with us, making meaning to you."
This piece of advice has stuck with me throughout the whole development process, I have tried to clock in to my self at the age of my character and take snippets. Such as how I used to always want to know more, picking up caterpillars and trying to pass it to my friends who would scream. 
"I want to drag you down to my memory. 
Explore, interrogate your memory."
In writing you don't have to tell, just try to express how it feel, be truthful
LO1: We were asked to bring in a photograph from our childhood. I chose the photograph below I believe I am around 8/9 in Cornwall. We were instructed to write a story that brought us back to the moment. One of the 50 things to do before your 11 3/4 is to catch a crab. Which is rather relevant as I am younger than 11!
Crab fishing
---
---
Story Development! 
LO1, L02: After doing my dissertation on storytelling, I want to explore playing with story. I have decided to be experimental with the ideas, plus I have a passion for working with lots of story ideas, and really utilising the extensive research to fuel them. What I found specifically for the brief (50 things to do before your 11 3/4 – National trust) Is that there is so much potential for stories ideas, as the imagination of children can be endless. Making the stories even more elaborate. I want to root however the national trust root cores ( Wildlife, nature conservation, history, inspiring children, coastlines).
LO1, L02 : Playing with different variations of my sketchbook ideas, below is a story I write using the Badger Ball idea. 
Badger's Ball. Idea #1
Bare foot over damp dirt which clings to my feet, the grass is covered with dew but I am running fast I hardly realise, I step up to a tree's giant root and jump back down. I stop. The tree is large, yes, like the dozen of others. But this one is deformed and contorted and twisted. It harbours a giant pit, a mini cave made from wood not rock. Uncomfortable shins as I balance on the roots which dampen the trousers I wear. The smell of soil and rusty twigs clog my nose as I bend into the tree inside. Soft breath and bodies snuggled in deep. Stripes of black and white. My eyes widen with surprise, what are these creatures and why are they asleep? [Maybe not needed]
My eyes are tired and heavy. Torch heavy in hand I march to the spot I know the kingdom of the stripe creatures live. I gently shine a light, but there is no breathing, no moving…No creatures!
I roll back in defeat and look at the stars, when I turn the torch off they become clearer. When I switch it back on, moths and bats glide past. I sit up, I begin to hear a strange stringed instrument foreign to my ears. I follow it's sound and through the thick foliage I see the strangest sight of my life. Lanterns and fireflies and banners. Badgers dressed in silk and tables filled with slugs and snails and mice tails. Music and maypoles twisting and bending round a giant branch stood up on the mossy carpet floor. I am intoxicated by it's beauty and it's splendour.
My eyes are watering as I am no longer blinking from the fear I will miss out. Suddenly, a tap on my back cause me to spin round. My parents shine their torch under their faces and make me jump (fall into the scene). When I look up the badgers have discarded their clothes and the maypole has vanished. They scamper into the darkness. One looking back with a faint smile on it's chops, it look forwards and then runs into the abyss.  
LO1: I invested in buying this book which is for children to complete 50 things to do at night written by the National Trust, I wanted to use it in order to help me generate ideas and develop more. I ended up getting really passionate over and internally ticked off everything I had done! What it did do was show me the variations of things to do at night! I wanted to try and cover several different ideas in this book in my story!
Developing the story.
LO5, LO2: Dan suggested I created 3 ideas for my National Trust brief as it seemed too vague after the Christmas break. In the end we both decided this was the strongest idea. I was really happy with this idea too and it almost gave me so much choice to be playful and experimental. The idea was to use the 50 things to do before your 11 3/4 list on the National Trusts website to inspire my animation. Below is the idea I presented to Dan. Although the elements ended up changing it gave me a clear direction to work with.
[Below slideshow]
LO2: I took some time to look through the 50 things to do before your 11 3/4 list to generate different ideas that could be used for my final story. There was so much potential for a variety of stories. I did some thumb nailing over a couple of days and created a slideshow with my favourites. I ended up favouriting the Badger's Ball as I liked the idea of challenging myself. It was a hard decision because I could see potential in them all.
---
---
 I chose the Badger's Ball to explore.
LO2: The Badger's Ball is based on No.40 of the 50 thing's to do before your 11 3/4 seen above. And on this page it suggests staking out a Badger at night. I loved the idea of playing with this alien world and playing on it's mysteries. This was one of the reasons why I chose this idea. Also because it would challenge me to understand lighting. I am looking forward to the challenges to tackle.
Developing story to go here.  
LO1, LO2: I realised the story was too complicated for me to animate on my own so I decided to consider a different way of making a simpler story still with a child and a Badger. Below are many of the thumbnails I created I feel I spent too long on making this decision but it also did allow me to think creatively and experiment in storytelling.
LO2: I had chosen my favourite idea for the story which was the Badger Ball but I quickly realised there was too many characters to animate so I needed to rethink the story with a simpler amount of characters so I could take my time with the animation. Below is a powerpoint with several ideas using the Badger and the child scenario. It ranged from stargazing to drawing out a moon chart. In the end I chose to go with a story similar to the Badger Ball – "Badger Parade" I liked this idea because it kept the essence of my original idea but didn't require me to animate lot's of characters. Even though I discarded the other ideas their were elements which made it into the final story. Such as the "worm king" idea which saw the Badger as this magical creature that controls worms. A lot of the moodboards I created for the different story ideas remained to inspire me as well. This exploration really allowed me to be playful and push the idea. It also kept me excited to
This slideshow requires JavaScript.
LO1: Studio Ghibli are never short of visually rich and beautifully made animations. In the film My Neighbour Totoro, the two girls Mei and Satsuki adventure out when visited my Totoro. The scenes prove really helpful for me in colouring and concepting. How much colour is visible in the dark. I love these scenes their is a magnificent sense of energy in their artwork and animation.
LO1: Above is the scene from Robin Hood [1973]  the backgrounds here are really beautiful and show again a night scene. In this animation it has been tackled by using very light blues. When it comes to the degree show I was worried that if I created a really dark animation it wouldn't appear clearly on screen. Here you can see how the animation dosen't necessarily have to be dark to represent night, muting and creating lighter tones can still represent the night.
LO1: The Rescuers is an amazing animation, this scene shows a different way of representing night this time with more a merge of sunsetty dark colours. The animation is slow at pace and emphasises Penny's wish for help.
L01: The little prince is a really bizarre and wonderful story of a boy come from his planet, to learn how to care for his rose. If you look particularly at 3:32 we can see how using the golden hour could enhance the story element. In this scene (Spoilers*) the little prince is dyeing. Carried the scene changes from the golden sky to night. This was one of my preliminary ideas.
LO1: Thinking about adding that air of mystery could be added with filmic language. These two GIFS from the film Vertigo ( 1958) show how mystery can be captured using composition and shot style. The character is never revealed but we begin to notice her. We see elements of who she is but it is never really fully revealed in these shots. Its not necessary and it takes away that air of mystery.
L01: Maltilda (1996) was one of my favourite movies as a child, the story is great showing scenes of victory, power, adventure, kindness and cruelty. It is a film I used to and still now watch. There are several scenes which project this feeling of freedom and excitement. Above is one of them. If you rewind the clip to: 0:31, we can see how the child is represented beautifully. We feel the pure joy of the discovery of her powers. This scene is also great visual reference for when I come to animate, I love the world Matilda creates, freeing and happy.
L01: Discussing Matilda, here is another clip which I love. The ending of the film fast forward to clip: 2:36 we can feel the pure joy of childhood summer. I love the montage of clips here and this is something I should consider doing (How I layer sequences). It really reminds me of my childhood and the range of crazy things my parents would set up for me to do over the everlasting summer holiday. I like the exploration of a child and a mother figure in this scene. The music is also beautiful and freeing.
L01: Harry Potter, an amazing book, an amazing film. But the main reason why I put this in my research is because of such scenes as this. This scene is set outside at night in the forbidden forest. Its great to see different takes and perspectives of the night. This particular filmic language is much more sinister. The dark forest really is dark – using more black tones with glimmers of orange to spark up the sinister elements. When in the forest the scene turns a cold blue. This scene is also worth noting to see how the different young children act, J.K.Rowling is a master of character development. Here we can see how 4 different children can interpret the scene of being outside on their own. This makes this great visual reference for when I come to developing my character as well as animating her.
LO1: Another clip which is set at night is this scene in Harry Potter and the Philosopher stone. Light is used sparingly but effectively. It is apparent in this clip with purply blues and golden oranges. It is great how light can emphasise a sense of whimsical nature.
Interacting with an animal 
My story is about a child discovering and interacting with a Badger. I wanted to look at some examples of this happening in film/TV. I like the idea of this interaction scene of meeting something/Someone for the first time.
L01: Narnia – The Lion, the witch and the wardrobe is a perfect example of how a child can stumble upon a great mystery. It is great to see the very vibrant differences in the characters. Mr Tumnus clearly more timid than Lucy. I think it is a great shot of showing the characters interacting. I think this could be a great way to show my characters getting across and animating by perhaps having a really simple scene like this one.
LO1: Above is another scene from Narnia, this time showing Lucy discovering the very wardrobe which transports her to the magical land of Narnia/ It is great to see the character reference of a child discovering a new world. Much in the way I want to propose that night is a completely new world.
L01: Lets discuss Rufus and Penny. Their friendship is so heartwarming, the animation is satisfying and shows good weight and appeal. I like the way these two characters interact. I think this is great research into how a child and animal can behave around each other. It is clear from this animation that the characters are friendly, they know each other. However my story shows the characters meeting for the first time. Also I want my badger to have an air of wildness. Not to be really tame.
L01: The two scenes above show the young wizards meeting a creature known as Buck beak. What great about this scene for reference is the nervousness of both parties. It is also a great character analyse of Harry Potter who is calm and follow whatever Hagrid says and Draco Malfoy who does as he pleases and marches into the situation. This is great to see how different character can take on the same situations.
LO1: The 1999 Tarzan, animated by Disney is rich in human and non human connection. Perfect for understanding some points in my story which sees a child and a badger interact. Its great to see the different ways animals show affection. Also this scene is set at night, which is great for me to see how they tackled the colour theme. Although blue they are able to choose a colour which is cosy and seems secure. Layered with the ever emotional Phil Collins it really is the perfect mixture for chilling, heartwarming, loveliness. 0:52+ shows a really great piece of animation of Kala (mother gorilla) resting the baby Tarzan on her feet.
Character Design
LO1: The character design for this piece is important. My main goal is to create a child between the ages of 6-11 3/4 which is the age target for my animation. The body of a child between these ages are slightly different therefore I want to understand the diversity of a child to an adult.
Developing my character.
LO1: I decided to take some time exploring how my character will look, I wanted it to be a girl aged 8/10 who lives in Britain. Below are all my sketchbook pages of exploration, I did quite a few, I wanted the character to look like it belonged in this natural nighttime environment which was some of the ideas I was going for.
Appeal –
LO1: Appeal is a principle of animation. It is a principle needed in order to keep the audiences interest. The protagonist and other characters all need appeal, the villains as well. The audiences need a connection, an emotional hook that helps them grasps the reasons for the journey each character takes. This is through visual look of the character to the inner feelings of the character. Their flaws and personality.
"Like all forms of story telling, the feature has to appeal to the mind as well as to the eye". Source
Advice I found when researching
What makes a good character, try analysing character which you think are good, dissect why they are appealing.
Colour, how can you use colour to show personality.
What are the characters driving force, their goals, their life and backstory?
Refine character with purpose.
LO1: This advice is really useful because it pushes me to think of ways of strengthing my character. For instance what is my characters driving force? In my story my character is pushing to discover more after being intoxicated with visual splendour.
Character Analyse
LO1: I want to break down characters which I think are very powerful and have  strong appeal/ personality. Analysing them I hope to get a better understanding of what makes a good character. What makes a flawed character.
L01, L05: Alice (My sister on the animation course) did a dissertation on character in animation. She has helped me greatly with passing wisdom into how character can change a story in a way of driving it to different places. She also explained how character should be explored past stereotypes. I have tried to look at characters who are not a sterotypical 8-10 year old, with more depth.
L01: I have chosen two characters to review, Mary Lennox from a Secret Garden and Shizuki Tsukishimi from Whisper of the Heart. Both of these feature young girls. Both from films I have watched dozens of time, I want to dissect what makes these characters so appealing to me.
Mary Lennox – 10 years old
LO1: Mary Lennox is a 10 year old girl from the Secret Garden written by Frances Hodgson Burnett in 1911. I brieftly spoke of the character above. However when we think this character was written over 100 years ago it is peculiar how we are still able to enjoy and relate to such a character. Mary displays truth and honest making her universally understandable. Coming from an unloving family in India where she is neglected she grows bitter and angry. When she comes to Yorkshire to live with her uncle another empty cold house filled with staff she does not know she remains angry.  That is her flaw, how she can spite and burn people with words. It is the only thing she can do as a 10 year old girl. She is bratty and most of all hurt and lonely.
Shizuki Tsukishimi -14 Years old
(Slightly older than my character but it still good to break down why I like her as a character in order to help me make better characters and strengthen my skill of developing and understanding character.)
LO1: Shizuki Tsukishimi is a character from Ghibli's – Whisper of the Heart directed by Yoshifumi Kondō. The film is about Shizuki and her journey of understanding her own ability. This character again is very true. I see much of myself in her in the way she expects so much from her ability.
LO1: In the same way of Mary Lennox, Shizuki has a range of feelings and emotions. She isn't always happy nothing really ever goes the way she wants, even when she works tirelessly. It is her imperfections that make her so relatable. She feels real, what makes her entertaining and appealing is the way she dosen't give up. She could lay on the floor in the way she does in the first Gif above forever. But she dosen't she gets up she has this drive to do things. This age is especially hard for everyone when you leave the childhood fantasy behind you and begin to understand the responsibilities you need to take.
Gif soucre Character Reference L01 I have been trying to understand the range of characters of 8-10 year olds. I watched Tracy Beaker episodes of Tracy as a ten year old. I think what it really showed was how a ten year old can still be dominating and powerful. They are not necessarily shy and small. So when creating it I can play on how powerful my character feels.
L02: Designing the character
Sketchbook Pages 
Favourite character

Final Character and Expression Sheet
L02: Below is my final character, I ended up calling this character Hazel, partly in honour of Watership Down (I'm currently reading this book.) The watercolour variations below are really charming and I hope this style can be replicated digitally.  My weakness is digitally painting and something I hope over the course of the project I play more with and continue to improve. 
LO2: This is a rough sketch I did, I want to keep an account of all my drawings here, although these are Quick sketches of the character, I wanted to think of how the face would look from different angles.
LO2: To complete that a little bit better, below I created a quick digital turnaround of my character.
The flaws and virtues of my character 
LO2: It is important to understand my character further than how she looks but who she is actually. Above is a little document emphasising my characters flaws and virtues. I wanted to represent these further from the story, for instance (Isn't squeamish – she picks up worms and steps in mud, she sits inside a tree by herself) She isn't afraid to learn more, infact thats what she is a discoverer. The flaws of my character is how she is easily anxious and on edge, she gets freaked out by the owls and she wishes she could be braver. I liked to see those little pieces of determination when considering to animate her. I also used my own experiences at this age to help fit these characteristics utilising the advice given to me in the story workshop.
LO2:  As I am doing my animation in 2D it's important not to keep my drawings of my character always flat, I created a 3D clay model, which will allow me to not be stuct to one perspective but play with the different angles. This will allow me to quickly storyboard different angles as well. You can see on the video above an older one I did previously. 
---
---
Developing the Badger (Quadraped – R&D)
LO1, 2: My R&D for this project is to create an effective quadruped animation. This is a challenge as it is my first time animating a non-human character, but I am looking forward to trying!
LO1: I have a Badger in my story. The badger will be animated more in depth than the other animals featuring in my animation. Sadly I haven't gotten the chance to see them close in person, but I created an FMP playlist that has allowed me to collate and find reference video like below. It was important to watch variations of videos to see how they move, how they act, and to exaggerate and play on their character. From watching a variation of videos I have discovered how the Badger is really a playful character!
LO1: The below video shows the Badger cubs being excited and funny. It had helped me indeed further install a character and characteristics for the Badger featuring in my animation. It also helps me understand the movements such as how they lead with their nose in most movements.
LO1: Beatrix Potter as well as other illustrators, have drawn Badgers, their interpretations are beautiful and show the essence of their creatures. Although Potter creates the Badger as more of a rough criminal character it would be interesting to play around with its personality; I want my character to be more omnipresent and charming.
First time designing a non- human character
The Chosen Character
Final Character Body shots. 

LO2: Above I created some digital final drawings of my character, playing with the brushes on photoshop I have come to settle on using a pencil outline with a watercolour fill as I want to have a watercolour inspired look for all characters. LO6: Dan told me to remember about the shape of the Badger and ensure it is consistent when drawing its volume. My mistake in this drawing is some of the stripes on the head are different from one to another, I will not make this mistake when animating. Overall I am really happy with how the Badger's turned out and I have received quite a few compliments on them including the National Trust! L06: (See collaboration tab to see what they said!) 
Character Synopsis 
The OWLS!
L02:  When telling Dan my story idea he suggested adding an owl to give the piece more tension and anticipation. I was really happy with this advice as I really wanted to slip one in somewhere but wasn't sure where. With that advice I wasn't even really sure what owl to put in my animation. I booked to go see several owls!
L01: Visiting the owls.
LO1: I am hoping to use an Owl in my story, further suggested by Dan to add tension to my story, I decided to go and see the creatures in person. I booked at a local National Trust venue to see the owls in all there glory! And it was a really amazing experience. Not only was I bombarded with array of facts about anatomy and behaviour, I was able to see how the owls moved which is important for when I come to animate them. In the video below you can see me holding the Barn Owl, as the man who looks after the owls informs me it takes 5000 feathers to create that ruff around the Owls head!! I defiantly want to pay homage to that in my design.
Author's Own LO1: It was really amazing to see the detail's of the bird such as their feet which have weird groves that allow them to slot into the groves of the tree.
LO1: Below are several pictures I took as well as some my sister took, these pictures will help me to design the character, understand the colour and showcase the incredible variety of owls!
Worms and Snails
L01: Two other creatures which are featuring in my animation are worms and snails. Both are creatures that are staples of British wildlife. Both are also conveniently night walkers. The worm itself is nicknamed "night crawler" for there activity at night.  Some Videos below helped me build up a bit of knowledge about the earth worm. One of the reasons why I wanted to introduce the worms and snails is because they were both creatures as I child I would investigate closer. They were simply in the garden and I would watch them and inspect them. This is an element I wanted to put into my animation. Another reason was to play on the Badger Vs Worm relationship, worms being the favourite meal for Badgers. I wanted to flip that relationship and have a sort of worm king that put worms into a trance and ultimately his humble servants.
L01: The above video features, "Emma Sherlock, the curator of free-living worms at the Natural History Museum London" (Source) As well as being a really great video about worms and their activity here in Britain. I love Sherlock's passion and enthusiasm. There are some great shots of Emma amongst the grass. There is a scene in my animation where Hazel (Main character) picks up the worm without feeling disgust; this video is really good reference for my characters enthusiasm of learning.
LO1: Using youtube as reference I have been able to find videos which have helped in my pursuit of animating. In the video above the muscles of the worm explains how worms move. Contracting their muscles to elongate themselves, (long and skinny to shot and plump). This is how they take strides.
LO1: Above is a selection of some of the footage I took in order to get some reference to how a worm moves ready for my animation, It was the best footage and I did go to YouTube to get a greater understanding of their movements. But it allowed me to have a first person view of them. It also brings me back to that child like presence of inspecting.
L05: Collaborating with Alice for creating a snail design. 
LO5: I wanted to work with Alice on her project, we are both doing 2D animations meaning we have helped and learnt from each other. We can be really honest with each other. I really wanted Alice to have an input into my character designs in some way, we decided we would design a character for each other. Alice created these snails for me.
Quick Snail Animation Test
Author's Own L02: My animation will feature lots of snails and worms following the Badger, I wanted to test using the puppet tool in After effects to see if I could possibly add another way of animating these creatures. The animation itself fits well to the way snails move however I am not sure if I particularly find it as charming as hand drawn animation. What I would do is work out the shadows and lighting if integrated into the comp after animating.
Designing the lanterns for my snails
LO2: In my story the snails are used to add to the parade, having lanterns on the back. I created a Pintrest to collect some of my inspirations.
---
Concepting some Ideas
Landscape studies of photographs on pintrest
LO1: I wanted to have some time to study colour, using Pintrest, I have made a whole board for ideas for my story. Using some photography pictures on pintrest of sunset and night time i have played around by making these watercolors. Each image I limited myself to 20-30 minutes hence why some of them are really simple! Some of them are really successful where others are not so. But it has helped me to consider what I need to think about for my animation.
LO1: After looking at sun set I wanted to tackle night with the watercolour, using the references I found online. I don't like how they turned out, the watercolour came out really light when dried
Environmental Design
L01, LO2: For the environment I want it to be outside, in the outdoor splendor. I do not want the area to be surrounded by trees but on the border or more land area as well. I decided to go out alongside Alice to do some sketching in and around our area. This allows me to see different perspectives, which doesn't limit me to just photographs online.
Trip to Somerset
I took a mini trip to Somerset which was one the places where I was planning on setting the story as their is a great population of Badgers here. On the way sadly we saw 4-5 badgers dead on the side of the road which was really sad and the first time I had seen one in the wild. Below are some pictures which caught my eye and I wanted to photograph for inspiration.
Background tests
Designing the trees
Layout
LO2 – I wanted to plot out the map of my story. The story takes place on the edge of a woody place near a field and the characters home. Below you can see some of the rough maps I did. Using this will help me direct the story when storyboarding. I would like to create a neater version after with more detailed diagram of any tree I need to draw etc. This way when it comes to drawing the backgrounds it will help me greatly.
Colour Script and using colour in story development.
LO1: Colour has been an important tool for filmmakers to set a story for the audience. It is another way of getting an idea across. The use of colours drums into our psychological subconscious; we as children learn the fundamental symbolism for such colours. Our common understanding allows us to set an atmosphere. And even more uniquely disrupt these colour associations.
LO1: I discussed the above video in my collaboration Tab as well. But to apply it to my animation it is important to remember some of the useful things about what is shown. It reminds us that you can use colour to either harmonise or cause disruption. You can use it to associate certain feelings of a person, show how a person has developed over a story and also to subconsciously give clues to the emotion of the scene. Colour is very powerful and something I should be considering.
L01: In animation the ability to warp colour scripts are even easier, but it also comes with the responsibility of utilising colour to aid the story. Below are two shots from the film Song of the Sea by Cartoon Saloon.
LO2: I had several ideas of how to play with the colour, in the end I decided to play with using shades of blue colours which gives me an ability to play with contrasting with brighter colours for when the Snails walk past with Lanterns. I created a Moodboard below to give me some help when it comes to adding colour. I liked the richness of the colour and how it can easily be balanced to create a magical feeling. Some films which play on this are Harry Potter and My Neighbour Totoro.
In the words of David Bowie "Blue, Blue, Electric Blue thats the colour of my"..animation
LO2: I wanted to give some reasons as to why I chose to go with blue as one of the main colours for my animation.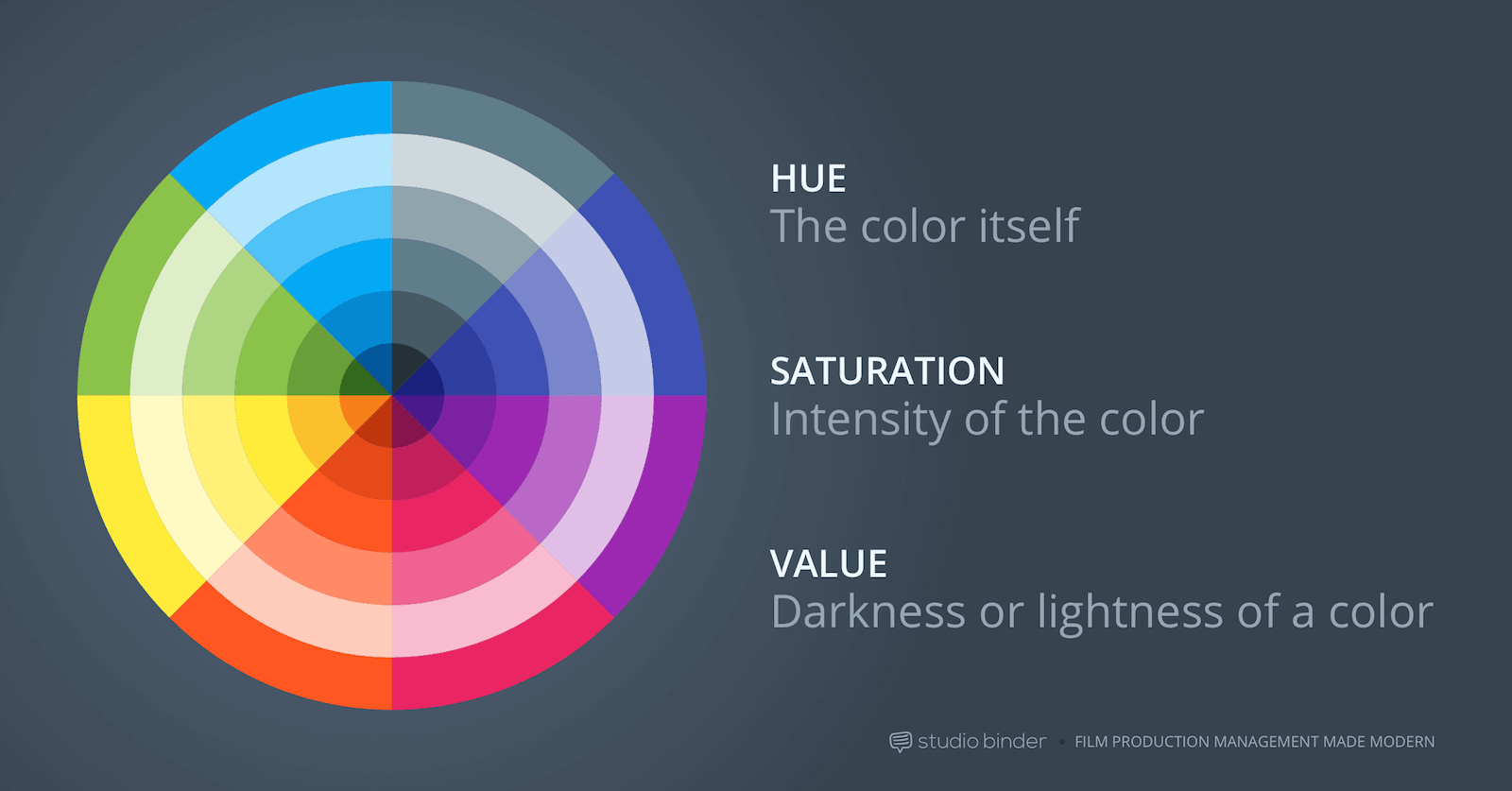 Blue and it's connotation
LO1: Colour theory allows a colour to transcend certain feelings to an audience. Using this tool we can strengthen the story moments further. I want to understand the colour Blue and how changing it's intensity and Hue we can further express the way we apply it to an emotional situation. Blue can represent many feelings for instance peace, spiritualism, tranquil, cold, anxiety, sadness, isolation, water, trust, loyalty, trust, cruelty. When you think of it in this way it explain how changing the saturation and value can have very different meanings.
Useful source
LO1: In the Shawshank redemption (1994) blue has been used to represent isolation and sadness in the prison shots. From the colour of their shirts to the value of the blue we see this coldness. However the colour's value changes until at the end *spoiler alert* Andy Dufresne escapes and makes it to his freedom. See below images that demonstrate the colour change to add to the characters emotional freedom and captivity.
Harry Potter and the colour Blue. 
LO1: Harry Potter uses the colour blue throughout the series beginning with the first films. Blue is played with to represent magic, danger, peace and isolation. Below are several examples of the use of blue in the film franchise.
Ever After
LO1: Ever After is a film I mentioned previously for the camera angles. The colours they use add elements of magic in a film that has not magic in it. I love the purply blues. You can see in the below Gifs, this scene happens within the same ten minutes but the colours go from these rich purple and royal blue to cold and duller.
LO1: A beautiful animation is the Prince of Egypt, in this scene we see Moses recoiling into the shadows this shot proves helpful for a scene in my animatic, when the Badger steps out of the shadow. As well as this, the way the scene is coloured with deep blues and glimpse of contrasting yellow. The scenes result in these dramatic and tense emotional sequence. This is my favourite scene in Prince of Egypt as we see the character faced with his whole life being a lie.
LO1: I was initially worried about the look of the piece because I didn't want it too dark that at the degree show the piece wouldn't be able to see it. I did lots of research into paintings, films, prints and animations that played with night scenes. One of my inspirations was Japanese woodblock prints, a lot of these prints focused on the night scene. They created these beautiful prints which almost looked bright enough to be day. What I learnt from this was making night look more magical instead of dark and scary.
The intensity of Blue 
LO1: In my neighbour Totoro by Ghibli the animation uses Blue in different intensities to understand the different emotional reflections of each shot. Below are two GIFS from different points from the film to explain this concept further. This film really helped me to understand how to use colour in an animation and utilise the shades to play with the story.
Colour Wheel 
---
---
Lighting
LO1:  Like colour, lighting can be used to craft a story. Lighting can set an atmosphere, demonstrate setting and create tension. I wanted to gather some good examples of lighting that could help me when it came to lighting my story.
I know that there are two key feelings I want to convey,
Feeling uneasy and a feeling of magic/wonder.
LO1: Using the below research it should help me to construct a better understanding how to use effective lighting and to enhance these atmospheres I want to get across for my animation.
German Expressionism
LO1: I have always admired German Expressionism for the beauty in the way they use light. The films result in looking like art in the boldness of light. Hitchcock was also inspired by this movement resulting in many of his films having the strong visual inspirations. The movement began as a result of breaking traditional "state sponsored" art academies. The movement saw playing with a simpler form as well as distorted and bold colours. To quote this useful source , to define the style it is: "a desire to startle the viewer in it's various branches and arrangements. " This emphasises the art form as something to shock and play with the audiences expectations.
Backlight
The Back light, is a lighting technique which can create mystery and a dream like trance.  The article I read some of the information above linked, reminded me that back in the days of Black and white film did not have colour so there light was used in more experimental ways to get a story across.
Using Natural Light
LO1: As well as using back lights and shadows. Using a viewable light source such as the sun in shot creates another way to experiment with the light sources we are used to seeing in our day to day lives.
Shadows
LO1: Shadows are used to create atmosphere, direct our eyes and to contrast light. I wanted to use shadows in my piece to give an element of mystery. I collected several examples to gain a better understanding.
Image soure LO1: Lastly I found this image when researching and fell in love with it. The film is The student of Prague 1926. What I like about this shot is the way the shadow of this authoritative figure/watcher, is giant. More than that he is giant underneath the scene, in a way they can't tell he is there. Ultimately creating a looming presence which creates an uneasy feeling for the audience.
LO1: I wanted to look at Lighting to assist me in getting a better understanding of how to use lighting to create a unsettling feeling. Above you can see a lot of different techniques to do this. I was impressed with so many beautiful shots from films I hadn't even heard of (But will be added to the movie list..!) I love many of the techniques. I want to use some of these techniques in my animation at the scenes where my characters feel slightly freaked out to give it more layers. I love the use of diagonal light, and the backlight. I had a scene where my Badger will be silhouetted but not seen properly by the audience, and looking at this research has allowed me to see how other masters of the medium were able to create such atmospheric pieces. This research will help me for my animation and I hope to keep an eye out more when I watch films to notice the story tool.
LO1: As well as feeling uneasy in my animation I want my character to amazed and bewildered. I was hoping to have lanterns on my snails back to add to the parade. I wanted to look at examples of films that have a magical feel, to see how they used light to aid their stories.
All Children grow up, except one..  Peter Pan 2003
L01: This film is a beautiful adaptation of Peter Pan, the colours in this film are rich are vibrant. In many scenes light has been used to give a magical glow. I like how when their is a lot of blue a light yellow is used to contrast and enchant. (As seen below.)
Image source  Using a light yellow to break up the blue in this scene
L01: In the film above we see the scene show the use of light to add specs of enchantment. In this scene Wendy is falling in love and the light is used to ignite that idea further. What I will take away from these scenes is how they used the light to contrast the blue tones. As blue is the colour I'm using in my animation.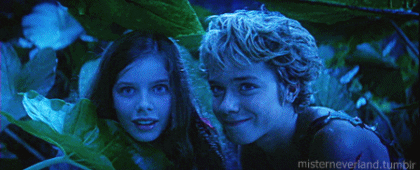 Pans labyrinth
LO1: The Pans Labyrinth is a dark fairytale by Guillermo del Toro, coming out in 2006 I believe I watched it around this time making me 11 at the time of watching. I remember being amazed by the tail. But of course there was many aspects that scared me. Light is used in the film to give a dream like quality.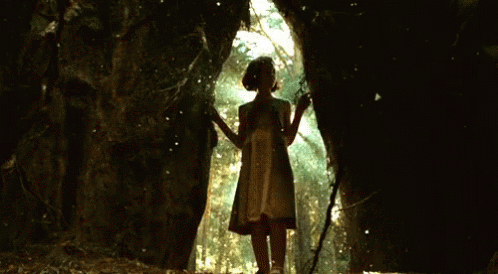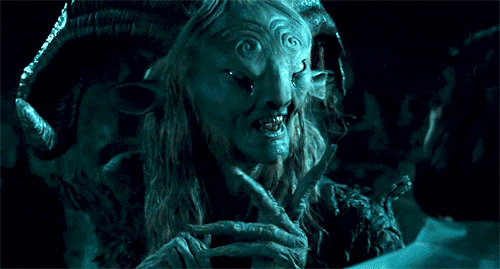 Secret of Nimh
LO1: The Secret of Nimh is a beautiful tale of a widowed mother's courage to save her children. As well as being a great story their are beautiful amount of light to add tension to the character. For instance we can see the scene above where the protagonist visits the "owl" who is wise but also very intimidating… The eyes above act as two giant warm lights that add to the tensions of the mission Mrs. Frisby is on. I love the hazy light they used for the Owl's eyes here; I would like to explore of create that warm glow in my own animation.
The Adventures of Baron Munchausen
LO1: Another fantasy adventure film is the Adventures of Baron Munchausen, the film uses light in a very dreamlike poetic way. Different to the other's previously mentioned. I wanted to add this to look at a different way of representing a fantasy film.
Festival lighting – Primary research
LO1: I wanted my snails to be carrying little lanterns, to help me think about lighting I looked at some of my own pictures I took in Japan when I visited the Matsuri festivals. Paper Lanterns adorned almost everywhere. They were really beautiful and came in so many varieties. Below are some pictures that helped me think about how I could light my lanterns in my animation.
1st Super rough storyboard.
LO2: Using the thumbnails I was able to finalise a really rough story idea. The 1st storyboard really was this quick one I did below. Obviously I was going to clean it up, but it was the first representation of my story idea. There were things I wasn't happy about such as the ending but I was happy to finally have a paced out story for me to work with.
2nd Storyboard cleaned up version. 
LO2: I used the rough storyboard above to create this cleaned up version. I played about with the shots but looking at this one I think there are a lot of weaknesses. I could have been a bit more adventurous with evoking certain feelings through filmic language. I also feel the ending just dosen't work. I do like some of these ideas. For instance on the first sheet below there was a Gag which I ended up taking out, there are two snails gliding really slowly and one frustrated worm trying to get past (We all know this feeling right?) He ends up pushing past and subsequently being the first to get eaten by the Badger. I ended up taking this bit out slightly because I wanted the Badger to be a bit more scary at this section. But it is important to put things in which make you laugh.
Storyboard Version 01
LO2: After doing this research I created a storyboard ready to show in Formative using my script and various thumbnail variations.

LO2: I used this storyboard to construct an animatic, to work out how long the piece would be. I liked the style I chose, however I was not happy with the ending it didn't feel clear. Also some of the shots are repetitive and lack excitement. I don't like how the character doesn't move into the shot. Therefore I knew I needed to take some time to rework some of the shots.  Also I did more research into story to get a better understanding of how I could improve my story.
Animatic Version 01 – Rough
LO2: Here is the rough anmatic I showed, this is to allow me to begin to think about timing for my real animatic – It came to 1:06. However I am not happy with some story moments which is what I a planning of updating. I used After Effects to help me work out timings.
---
Storyboard Research
LO1: I wanted to use some of my downtown to understand story and how to show it effectively. Using this time to research and understanding composition and filmic language.
LO1: I am defiantly a filmaholic, I think the reason why I am so drawn to films and stories is because they show US vulnerability in other people. Something which is not openly shown or expected in society. It gives us the ability to see other perspectives and possibility.
Understanding Filmic Language
LO1: One of the areas which I want to continue understanding and improving is effective storytelling. I am giving myself a little time to look into story boarding effectively. Using tips in books, documentaries online and tips.  I think it is really important to continue learning.
LO1: The main reasons for story boarding is to get the initial ideas into a linear structure and allow you to escape your mind/words into images. It is an important stage as it really allows you to visually see your story come to life, allow you to change certain elements and get feedback. Information Source
LO1: Red Koo received these amazing piece of advice whilst getting feedback. The notes are offer great advice and starting points to create the most effective storyboard possible. Click here to view them in full. 
http://tobyshelton.blogspot.co.uk/
LO1: Paul Briggs, story artist on such films as Big hero 6 and Frozen did an interview below is some of the advice I found most useful bullet pointed. It is great to take advice from story artist so experienced.   (Below I discuss my opinions with the advice in this interview.
"Why is this sequence in this film?" – LO1: I should be thinking clearly about why every shot is needed in my animation. If it does not serve a purpose I want to remove it so it is clear and simple.
"I strip away everything and make the characters as strong as they can be." LO1: As I said previously it is sometimes better to take away unnecessary elements in order to not clog the story. I have most defiantly been doing this for this FMP.  I find myself no longer a precious with ideas and feeling better about letting go of ideas.
"I'm a thumbnail fanatic."(I know the feeling)  I'll do 2 – 3 thumbnail passes before I ever start boarding. After I'm satisfied with where it's at I redraw the whole thing digitally and pitch it to the crew and the Director. " LO1: This is a process I find myself doing often and it goes to show the storyboard can not be finalized in one round it takes variations to get to something your happy with.
"I draw on a Cintiq and use Photoshop, proprietary storyboarding software, and listen to music on Itunes." LO1: Briggs states that he uses a Cintiq and Photoshop to work on his storyboard. This is great to understand how industry present their work, luckily I have been given the opportunity to use a cintiq for this term and I have used Photoshop to create a storyboard.
"But your drawings have to convey the idea you're presenting clearly! So…… that requires a strong drawing ability. " LO1: I still find myself struggling when it comes to drawing at times, but everyday I practice, everyday I am improving. i have always loved drawing and it is a skill I will always try to do. I think it is important I push myself with what I am drawing in order to improve that is why I am looking forward to this project.
"You have to be a strong storyteller. You have to use visuals to demonstrate that you're a strong writer that is working with character and structure." LO1: This is something I want to balance, I like to think I am a good storyteller but there is so much I have to learn. I hope this FMP will bring me closer.
I love seeing work that uses as few drawings possible to tell a good story and a portfolio that is geared towards animation. LO1: This is something similar to Beatrix Potter said, sometimes the least amount of drawings can improve a story, don' try to unnecessarily over complicate a story.
Changing the ending. 
LO5, LO6, LO2: After getting feedback from Dan, Sanjay and Dev on my animation, I was in agreement the ending needed to be sorted. I also wanted to be more playful with my shots so I took the time to relearn some of the filmic language.
Dissecting the story – After my feedback. 
The Key to the ending
The ending to me was important and the way I ended up choosing to end it was in key with all this research i had done about conservation . I only had to look at my research to grasp the answer to the story. Nature is not for human entertainment it is to be respected, observed and enjoyed. Therefore in the end my character couldn't join the parade, she couldn't go over and hug the Badger. The Badger is a wild, mysterious being and therefore it is much better to leave the animation in a way where that mystery continues and children who later go on to see Badger's hold the same mystery. I am glad we never really find out what the parade for, it adds to the atmosphere and mystery of night. This ending also helped me achieve ideas for how I would animate the Badger, remembering that he is more animal than human and should act in such a way that demonstrates this.
Third rough Storyboard
Fourth rough storyboard
Fifth Rough Storyboard
Re-working the ending.
LO2: I wanted to play with the ending as the rough storyboard I did was not clear, however I knew that the ending would be the Badger running away to the parade. This has stuck but the character has changed. I said previously that I wanted my Badger to be more animal than Human. So I used this as a driving force, I want to show that if we are admiring nature we should not expect wildlife it to be our entertainment but to view and respect it. This is why in my animation the Badger run off after they recognize each other. I don't want the girl to chase after the Badger or be too sad, but respect nature magic. During formative LO5: Dan, Sanjay and Dev all suggested to keep it simple, and I am glad I had the time to strip the story away rework it before it was too late.
Creating the updated storyboard/animatic
LO2: From my research more and more story artist are creating digital storyboards, I chose to create my storyboard in Photoshop unlike my rough storyboard. I created a rough storyboard in my sketchbook ready to create a clean animatic.
Animatic Version 02
LO2: When I put my second version together as an animatic the piece was 1:21 this was longer than I wanted to animate, so I knew I had to cut it down. I took out shots which I didn't need to tell the story, such as the owl winking, and the girl facing the Sett. It did not make the story any stronger and it would save me time animating. Below is the same animatic this time cut down to 1:15 (1:38 with opening and credits.) I am actually really happy with the cuts I made, after taking them away I feel it has improved my story.
Storyboard Updated with current timing
LO2, LO6  Below is my second storyboard using my animatic. As well as my storyboard there is the version of the coloured timings. I did the timing by eye, so I took the time to write out in red the timings from the After Effects document. The bright blue is this number rounded up to the nearest second.
LO2, LO6: When I put the new timings together the animation became into 1:21 which was too long, I had to make cuts to the shots. I am happy that I did because the shots I got rid of were not needed and I ended up improving the animation. By cutting down this my new time (below) is at 1:15. This will mean I will get more time to work on the other shots.
Animatic Version 03
LO2: The final animatic is above, the animation time now at 1:15 it has allowed me to have more time. I wanted to organised my time so I dissected the aspects of the animation – What is holds, what is hard and easy animation seen below. Now that I have the animatic sorted I can progress to animating and sending it over to sound and music! LO5: On my tutorial with Dan he asked whether I thought about the credits and opening and what I wanted to do. I took my time with this final animatic to get the credits correct. I chose to keep my title "At nightime" because it plays with the mystery of the contents of the Sett and also mentions the night aspect of my animation.
LO2: Below are is the final storyboard using the animatic images, I am glad I Decided to cut down my shots, taking them away made the story better, Some shots were not needed.
L06 Below you can see how I have written the timing over my storyboard, with seconds and then highlighted into the colour of the bar gragh above. It also is circled into shots. This organisation will mean I can look at how many seconds I need to do without opening my animatic up.
Finalising the look of my Animation. 
LO2: After finalising the story, and completing the animatic I can further finalize the look of my animation. From previous concepts I know I want to keep hold of the charm of my watercolour designs.
Style boards (Inspiration for the look of my animation.)
LO1: This animation is going to be 2D, so the look of the animation is for me to decide! I put together the below mood boards showcasing some of my inspirations for the feeling and look of my piece.
What I hope to have for animation style.
Pencil lines
Watercolored
Textures
LO1: The styleboard above shows I want to have that traditional look, exploring pencil lines with a watercolor look. And trying to create as much texture as I can. I still need to understand my colour script and the lighting in my animation. So there is still a lot of aspects to think about. Yet I still closer to understanding what I want my animation to feel like from my research.
Inspirational Animations.
Below are three animations broken down into the making of. 
LO1: There was some amazing animations over Christmas  time, below are two videos of the making of – of Ethel and Ernest and We're going on a Bear Hunt. Watching these are actually so helpful in figuring out whether I am carrying out the right stages. They are both created by studios which I really admire. I love their simple stories that have so much character and charm! Both of the animations also use 2D animation, which is what I am intending to carry out. Watching below you can really see how they set out the tasks into different sections. I do not have the same amount of people as it is mostly me with some help from Alice. But as long as I hit my deadlines I should be on track to creating a beautiful animation too!
LO1:  This short film really inspired me, what I took away from this video is the beautiful process Lupus film carry out. They work on mostly on 2s of 24 frames per second. I also really appreciate how they went out and embodied the children animation. I can relate to how they have had to take on all the characters!
LO1: What I took away from this video is the way they brought the "richness" of the original illustrations. They did this by playing with compositing in Photoshop and using real hand painted texture. The teamwork is really organised and work so efficiently, I am trying to stay organised in all aspects of my work.
Ernest and Celestine 
LO1: Ernest and Celestine is a beautiful animation! Based on Gabrielle Vincent's book series the work gone into it is stunning. I love seeing the work gone behind the piece. On this Making of website created by director Benjamin Renner, he explains all aspects of the work put into it. What I personally like about the animation is its simplicity, the story is not the most complicated and slow paced but it gives you time to understand the essence of the characters. The look was created using hand watercolor backgrounds, flash animation composited with a special software which gave a further watercolor look.
LO1: The last making of is this one by Ernest and Celestine, I like seeing how creative other creators have been. The way they have played with shots are, in 1:54 we see the animatic version of the beautiful shot where it scopes across the mouse world. Its so impactful and epic! The animation itself has so much rhythm and charisma. I especially love the scene where Ernest and Celestine meet for the first time.
---
Colour 
---
---
---
Lighting
L01: Lighting will play an important part in my animation, even though my animation is set at night, it plays with the moonlight and lantern on the snails back. Lighting is not my strength so looking at masters of this craft will help me construct a better understanding of how I can play with light and more than that communicate the story with lighting.
LO1: Rembrant is an artist I studied back in Alevels doing Art and Design. I return to it now to understand light. Rembrant is a master of atmospheric light. The way he is able to craft light to add tension and story is beautiful.
image source  L01: Rembrandt was religious in his painting "and judging from his existing oeuvre, Jesus was his favorite protagonist."  In this painting we can see how Jesus is completely silhouette in the foreground, with one disciple on his knee in front and the other shocked. The lighting is really dramatic and creates this power in the way Jesus is posed. The man in the distance also silhouette with a bright light almost splits this painting in to two different ones. It is amazing how Rembrandt can play with light in interweaving so many different things into just one painting.
Grave of the fireflies (1988) Isao Takahata 
LO1: The Grave of the fireflies is a film I have seen once because it was so sad at the time of watching I have not been able to watch it since. What the film does do beautifully is utilize light. The fireflies them self create a perfect light source to glimmer over their faces.
Clips for reference
L01: Spirited away is an amazing animation and a credit to the art. The character animation of Chiharu is something I want to pinpoint especially. Chiharu is a ten year old protagonist in this Japanese fantasy. Her character is vulnerable for almost all of the events she faces which feeds into her animation. I love how the character is animated vibrantly and limbs are flying awkwardly. Above is a mix of some of the clips from Spirited Away. 0:01-0:28 is a really great clip to see how Ghibli can use pacing and characterful quirks to put the childlike nature in the establishing scene of Chiharu.
LO1: Princess Kaguya is a stunning animation, not only crafted in a unique and vibrant way, but animated beautifully. I wanted to put this here to inspire me to push with how I animate my character. I want to play with timing and more and not to be frightened from pushing the character and really showing us who she is.  What I also love about the clip above is the way Kaguya spirit comes across.
Background testing
LO2: I wanted to play around with the background and how I would create them in my animation. Below are several different tests I did to see how I could play with the variations of the backgrounds.
Animating 
L02,4: Having made the many decisions needed, I have begun to animate!! I am using Photoshop with the plug in Anim Dessin to do so. Using After Effects to composite each shot. This will be my next big animation using it. The reason why I chose to do the animating in Photoshop is so I can get those little accidents using brush pens instead of relying on flash for instance which creates a more vectorised lines.
Shot 05
I began with Shot 05 as a starting point, using the animatic to remind myself of the length of this shot. (2 Seconds) You can see the animatic still below.
Reference
LO1: I used reference I discovered on YouTube, my own videos I took when I visited and myself as reference. I tried to study movements that are eerie and controlled. Owls are quite slow in how they move and also quite still. There heads however are much more movable.
LO2: Above is my particular favourite video I found, YouTube can be really useful when slowing down the video, allowing me to see the details easily. I like the arcs Owls do in the way they turn their heads. My characters needed to be mysterious therefore I chose to animate them in slow turns and directs looks.
LO2: After doing the rough animation I did a quick test of foreground animation in after effects. I did this so I could explore shortcuts of adding more movements to the shot. I dissecting the foliage and played with the layers. It is much quicker to do in on After Effects instead of frame by frame so it was useful to see  tests.

LO2: Above is the test of the moving foliage. I like the ultimate look and it dosen't look to out of place. However I began to wonder if it may be too busy and thee focus should be on the Owls. The leaves do serve a purpose of leading out eyes to the owls straight away. Which is why I needed them there.
LO2: After doing the rough animation I added a cleaner line. The outline I chose was a pencil outline. I chose this to give it that natural look, this was a look I concepted and took away from my style boards. It was not to hard to reline as I had done the rough animation quite clearly. This wasn't the case for some other shots I had worked on.

Shot 13

Shot 14
LO1: When watching Spirited away I noticed how Chihiro walks over the Soot creatures similar to what I had created for my character. The shot above shows Chihiro trying to squash the "evil curse worm" What is really great to take away from this scene is the pacing and how quickly and swift the characters acts. I also love the contrast in shapes from the squished small running at the beginning  the violent leg squashing. I love how the animators play with showing fear especially when her hair flies up in shock. They have a powerful way of showing emotion and that is why thy are beautiful to study.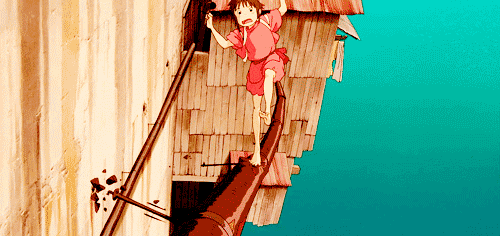 Showing amazement and wonder. 
In this shot I want to show the characters amazement, I want her to be hypnotised and bewildered by the sight. In Princess Kaguya (GIFS below) We see how the Princess is constantly in love with nature. I love the simplicity of the shots and the slow pacing in the shots below. It is poetic and emphasises how calm the character is.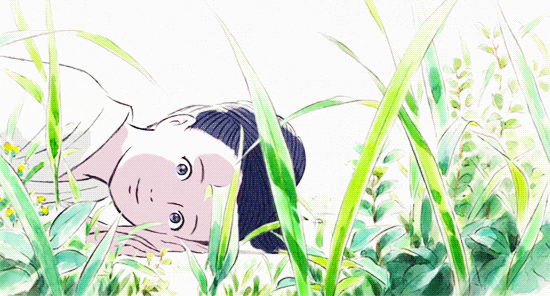 Exploring the Unknown 
Using Reference
Looking at videos of myself as an 8 year old
To gather some more ideas for putting a childlike energy into my piece I looked at videos of me and Alice as 8 year olds the age my character is. Below are some printscreens from these videos.
LO1: Author's book scanned in – illustrated by Briony May Smith in Micheal Morpurgo's  "The Giant's Necklace."  T This is something I want to remember having variety to the silhouette of shape. I want to make sure for this shot I have planned the keyframes out first to save me time. /
LO1: I filmed myself several times using the animatic as reference to how i had planned out the character to move. I tried to remember pacing and show energy. Below are some images to demonstrate how this reference looked like. I am still learning on perspective and timing. Therefore this reference is really vital into helping me improve. I hope one day I can become more confident and not rely as heavily on reference.
    LO1 :  Author's Own printscreens from reference video. 
Roughly working out the Keyframes
LO2: Using the rough gestures above I took some time to try and flesh out the poses a bit more before I began the digital work. This really proved helpful, as I tried to create the child's body as a reference instead of my own body. I did this by using character pose sheets.
Rough Keyframes
LO2: Below you can see a gif of my rough keyframes. Underneath the black lines I did two other passes of blue and red. I wanted to make sure the perspective was right and the feet lined up. Now I did this I was able to clean it up and add the facial animations. i spent a lot of time using .
LO2: When it came to working on colouring  the piece took me double the time. I had to do an original base colour and then repaint over the top in a watercolour brush. If I hadn't done that. colour would have shown through. Therefore it took me double the time to colour adding  extra strain on me. However I really love the final look of the piece.
Shot 18
I liked to ecplore How i could add tension to the scene above; .
view of the girl looking in. The premise of my animation is to look at children in the wild but also understanding a respect between wildlife and man. Therefore it was important for me to had story moments of the Badger's point of view.  This is the second shot which looks at the girl from through an animals point of view. I liked these shots because they also added an element of tension.
Experimenting different falls
Below are different key frames experimentations, playing with different variations of how my character could fall back. I filmed myself  as well as Alice who helped with her take on the acting (LO5). I identified my favourites and sketched out the keyframes and put it into Photoshop.
Above you can see some of the passes added, I wanted there to be a dramatic hold at the end so we could identify how the Character is feeling. This is one of my favourite shots where we the character from the Badger's point of view making the character seem
LO2:I wanted to explore using foliage to in this end shot. Below is the original animatic with my sketches and GIFS Of the tests.