LO1, LO2 R&D
Aim
Develop and create a piece of effective animal animation.
To challenge myself, to put character into my quadruped.
I am challenging myself by creating my first quadruped piece of animation, that being the Badger in my animation. I want to use my down time to take time to understand how a Badger moves and help me into putting character into my animation.
LO1: I used Lynda this term to create a playlist called FMP ( see below.) As well as using several book as aid in my research into effective quadruped I used this short course – Animal walk cycles with Dermot O' Connor. What I really liked about this course is that it not only gives an anatomically correct walk, but shows a custom made walk. It teaches you how to be playful with pushing the animals character's across.
Animator's Survival Guide
 LO1: Animator's Survival guide Page 330 Scanned in by myself  Here on this page was useful they used different colours to help show the different elements and to prevent confusing the different sections. I think in the same way the course on Lynda did it shows how the body mechanics needs certain rhythms to push the animation.
LO1: Author's scanned in page 327 of The Animator's survival guide.  This page helped me consider how to break down  my animator. suggesting to begin with the contact positions and then considering the motions such as the movement and the weight. I hope to show the weight of my character.
LO1: Scanned in page 328 of Animator's survival guide. This page in Animator's survival guide began to discuss the ideals of animal animation. It suggested looking at Muybridge's photos as well in the same way the course on Lynda did. Sadly their is no Badger shots but perhaps looking at animals of similar family or build could help me.
LO1: It is important to remember the animal's body when getting a character across. You can use it to emphasize the character's personality. For instance studying how Kaa from the Jungle book uses his body to emphasize his creepy hypnotizing ways is really great! I love how he can contort and create shapes. 
Gif Source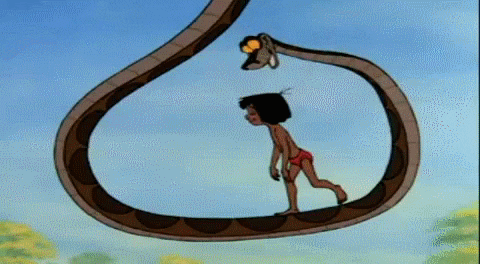 Disney Animation: The Illusion of Life by Ollie Johnston and Frank Thomas. 
LO1: Scanned from Disney Animation: The Illusion of Life by Ollie Johnston and Frank Thomas. The Illusion of Life has an array of useful and inspirational material to look through. On this page it notes about how to get an animals character across. I highlighted the section to which it suggests a Cat is more expressive with it's eyes and a Dog is more expressive with it's body language ( Which I believe is the same for the Badger.) The way we make our characters can help play with their species as well as their personality. (We want to represent the animals correctly.)
LO1:  Scanned from Disney Animation: The Illusion of Life by Ollie Johnston and Frank Thomas. As well as having this beautiful animation breakdown of Shere Khan; this page emphasises how studying animal movement can allow you to begin to be more creative without relying on reference. I feel right now I need to study the Badger movements so I am not just relying on the reference. I like the tip at the end (highlighted at the bottom) that suggests playing with the leg pattern to create a different emotion : such as sleepiness.
Image source LO1: The racoon is similar to the Badger in the way it leads it's movements with it's nose. This is really similar to how the Badger moves, what I will take away from this is how the Racoon turns it's head and the way the Racoon's paws help it balance when it turns.
The Badger A.K.A Meles Meles
LO1: Below is some videos I used as a reference for understanding the Badger as we as when I was creating it's character design. The Badger is playful and charismatic! In my research I discovered that Badger's are not hunters but foragers or as the Badger's trust put it "opportunists". This shows how they are not hunting on prey but searching for anything that can be eaten. Information Source
Skeleton structure of the Badger
LO1: To understand how a Badger moves and to understand the shapes of a Badger I collected some images of the skeleton and anatomy of Meles Meles (European Badger) to which my animation is based on.  
Collecting Reference. 
LO1, LO2:  All the above research is useful, but actually watching the Badger is the most useful way to observe mannerism and ways of moving. I collected some of  my favourite into a Playlist on YouTube.
LO2: Above is another video which helped me when it came to looking for useful video reference. Different to the other videos which leave food out this one focuses on casual Badger behavior.
LO1, 2: Above is my favourite video, 30 minutes long, it showed great footage of Badger's. I was able to collect several pieces of reference to aid me when Animating. YouTube is particularly useful as it allows me to slow down the footage.  What I noted is the way the nose leads alot of the movement even in the way it smells the air. I have fallen in love with how playful the Badger is!
I like the above description in a poem titled The Combe, I read by Edward Thomas. It adds to that air of mystery I want to achieve with my character.
Stop the Cull. 
LO1: In 2013 the government put into place culling of Badger's to prevent the spread of bovine TB to cattle. This cull is continuing and spread to other counties and to Wales. According to the Badger's trust 80% of the Badger's killed in the Cull have not been infected with TB. The more I have done research into Badger's for this project the more I have grown passionate on this topic. Badger's and their protection is important, and should be accessed. Culling Badger's are not the only way to prevent this disease.
LO1: "Just a couple times a week, put your iPad away, put it down on the table and say i'm going for a walk. Whether it's the park the common, the neighbouring woods, someone else's grounds, someone else's garden and have a little look around and see what you find. Might not be a fox, might not be a badger. Might be a beetle. Might be a butterfly. Everything in nature is special." – Virginia Mckenna (Born free foundation.)
LO1: In the video above the many famous conservationists and members of various charities discuss the first time of seeing a Badger. Many whom were young. What I took away from this video is the way they described their inner feelings. There are children who speak of their favourite things about seeing a Badger. It shows the excitement and the mystery of this animal who is nocturnal and live under ground making themselves "unaccessible" to the world.
LO1: There is a great debate between farmers, who proclaim it is the Badger's spreading this disease. Above is a documentary that sheds some light onto this vast debate between the righteousness of culling Badger's or not.
References of good character animation.
Below are some GIFS of some quadruped animation which I really love. Breaking down these shots I can begin to understand why they are effective and how the animators were able to play and push with the animals.
Gif source LO1:  I 
LO1: I discovered these ballet interpretation of Beatrix Potter's tales. What I love about them is the way the ballet dancers take on an interpretation of the animals movements. Although it is essentially a dance, their is something poetic to the movements which has this beautiful fluidity and flow of action. It helps me to not be so rigid but play with the stereotypical behaviour.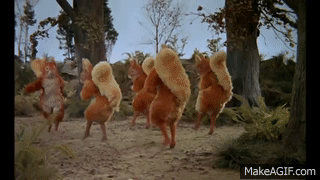 Ghibli Animals 
LO1: I love Ghibli animation for it's beauty and its magnificent stories. The way character's are crafted are particularly wondrous. Below are some GIFs which demonstrate how they animate animals in a brilliant way.

Jiji – Analysing Jiji's animation 
LO1: Jiji is one of my favourite animal characters in a Ghibli film. As well as being able to actually talk unlike most of the others, he has a lot of charm in the way he is animated. Below are some GIFS which show a variety of movement from Jiji.
LO1: Below is the Lily Allens Music video for the Christmas advert for John Lewis. The music video breaks down the animation process. What is great about it is it shows the amount of work put into the animation. There are several amazing quadruped animations, really capturing the animals essence rather than a human character. I wanted my Badger to still be really animalistic therefore it was great to see a representation of an animation that crafted their quadrupeds in such a way. It also is just so heartbreaking when the bear sees the Christmas tree for the first time. So beautiful.
Creating my own MuyBridge line up
LO1: The research above showed me how important reference could be. I used a lot of video references to assist me with working on my quadruped walk. This really helped me when it came to me animating.
Original Youtube Video Source LO1: I print screened this section of the Badger walking off screen as it was similar to a section from my animatic. I used a Grid in the way Muybridge did for his images to see the dips and movement in the Badger's walk. This is the images lined up (Not accurate timing) But it is so helpful for me to understand the way the Badger walks.
Youtube Video source LO1: Here are all the images together with the grid. Looking at these images I can see how tension and weight have been distributed. The shot was similar to my animatic  for my Badger. Badger's have really short legs for digging so at times it is hard to make them out. Dissecting my video reference has helped me when it comes to that specific aspect such as where the foot is placed.
Observational Sketches.
LO1, LO2: I studied several videos to help me observe the movements of a badger. By doing these studies it should help me in creating a playful piece of character animation. Sketching is a really great way for me to understand gestures and quirks of the badger.
The character.
I mentioned in my research tab a bit about my character's personality. I want my Badger to be animalistic, inviting and omnipresent. When coming to animate I need to consider these personality traits. Totoro for instance reacts and is animated in a way that makes him mysterious. I need to take this same philosophy and drive it into my animating.
LO2: Using my observations of the body structure and the quirks of a badger I tried to put it into my animating. I wanted to have Badger qualities. For instance on my research I discovered Badgers have a nose 800x more powerful than our own. Which is insane! But also allowed me to understand how useful the nose is to a badger.
LO2: When working out my Badger walk I wanted to ensure that I understood the structure of the bones. How the paws bend the amount of volume distributed and muscles. Using the reference I was really able to achieve a walk which took all those things into consideration.
LO2: I ended up using the leaves as an extension of the Badger's Expression. Two Oak leaves became sort of eyebrows. I worked with playing with them and overlapping them to bring a little humour. LO5: Alice gave me feedback on my animation and really helped me out in adding a bit of humour. In this section the Badger's eyebrows fall onto his eyes when he bowing.  I had originally squashed them down but Alice was able to suggest a different perspective that made it even better! These little pieces of animation gave my Badger more personality.
LO2: In order to make my animation seem like my characters personality I considered how my character would internally think and process things. I wanted my character to be mysterious and inviting. Therefore a lot of the reactions are slow, this way it emphasises not knowing what the Badger is going to do next.
Author's Own Gif  Here is the animation final shot. 
LO2: You can see there was a lot of different elements to this shot, from the background, lighting, leaves, worms, Badger, snails, lanterns, shadows. The leaves took 10 hours to do in itself. There was so much to do. This is one of my longest shots also being at 6 seconds and therefore it took much longer than I had anticipated. What I do like about this shot is the amount of detail in it. I spent a long time working on the Badger and I am happy with how I progressed. Somethings I want to get better at however is pushing the poses. Looking back at it I feel I could have pushed the Badger's bow even more.